Dr. Christine Bradaric-Baus joins the Executive Leadership Team as Vice-President Academic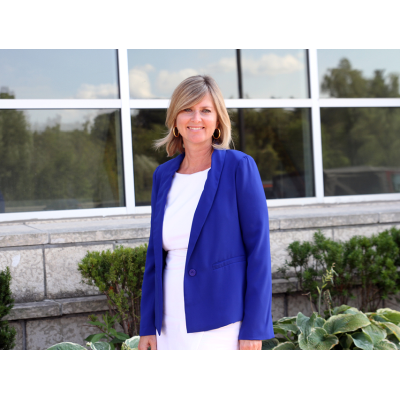 As Vice-President Academic, Bradaric-Baus will serve as CMCC's Chief Academic Officer and provide academic leadership and strategic direction for the institution's undergraduate program -- Doctor of Chiropractic degree – as well as its graduate education programs and Canada's largest chiropractic library.
In this role, Dr. Bradaric-Baus will set, implement and lead the strategic and financial planning for these academic and program areas, as well as establish performance standards for students, faculty, and administration including education directors, curriculum and faculty development, the simulation lab and departmental chairs.
"We are excited by Dr. Bradaric-Baus' breadth of experience and dynamic approach," says CMCC President Dr. David Wickes. "She brings a wealth of experience in degree programs and has worked on strong quality assurance programs for teaching and learning. She has demonstrated an excellent understanding of library services in the new millennium ways to provide resources for learners and researchers. She understands how to create practical links between diverse areas of study within the chiropractic program so that the students can easily see them as part of a continuum. Her interest in creating access to post-secondary education for individuals living in vulnerable communities, and in promoting access to chiropractic care to those in need is consistent with CMCC's practices and philosophy. We also share an interest in increasing the college's footprint and level of community engagement."
Bradaric-Baus holds an Honours, Bachelor of Science and PhD in Organic Chemistry from McMaster University. She has authored and presented numerous scientific articles and has significant research experience resulting in both grant funding and patent ownership. Within academia, Bradaric-Baus has led academic priorities that include academic programming and quality, partnerships and pathways, internationalization, co-operative education, student retention and continuing education and has experience with simulation and blended learning.
"As part of CMCC's executive leadership team," says Bradaric-Baus. "I am interested in growing CMCC's reach and reputation through academic programming and partnerships, clinical collaborations, research and community engagement. I am impressed with CMCC's program and excited about working with faculty and students to facilitate professional growth and CMCC's role in health care going forward."
CMCC faculty and executive team is very much looking forward to her perspective and contributions to our programs.