Thanks to the generous donations of the OCA and CMCC, CMCC's IPE Council was able to attend their second annual Ontario Medical Students Weekend (OMSW) Conference as sponsors of their Med Expo on Saturday, October 21st, 2017 in Sudbury, Ontario.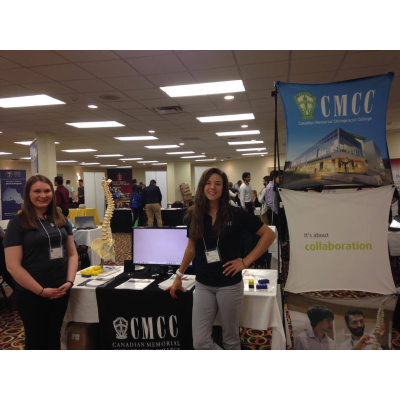 The purpose of sponsoring this event is to expose first year Ontario medical students to the chiropractic profession, educational curriculum, scope of practice, and to discuss the way that medical doctors and chiropractors can enhance collaboration for improved patient care upon graduation.
Along with anticipated questions like the differences between chiropractic, osteopathy, and physiotherapy as well as the common conditions chiropractors treat; the students in attendance were inquisitive about several more sensitive topics. These included, but were not limited to, stroke, subluxation, chiropractic care and its affect on the internal organs, infant/pediatric care, and the perceived lack of evidence for the chiropractic profession.
The event was extremely positive, promising, and encouraging, as the medical students were open to learning more about chiropractic. I believe this demonstrates how beneficial it was for the chiropractic profession to be represented at the conference, which stimulated both a need and desire for more discussion regarding interprofessional education and collaboration in their professional schooling.
Along with speaking to first year medical students, we were also able to interact with the Ontario Medical Association (OMA). The OMA supported our attendance at this event, as the ultimate goal of healthcare is patient-centered care, which they noted involves chiropractic care. Furthermore, we were also able to introduce ourselves to the Ontario Medical Students Association (OMSA), who were interested in developing a professional student connection with the CMCC IPE Council.
OMSW 2018 will be held in Ottawa, Ontario at the University of Ottawa. The OMSW 2018 organizing committee is eager and excited to have us once again as sponsors of this event!