GLA:D™ Canada is an education and exercise program developed in Denmark for people with knee or hip osteoarthritis (OA). The program has resulted in positive long term outcomes (one year post program) in over 10,000 participants. CMCC is now offering the program to patients at our Campus Clinic.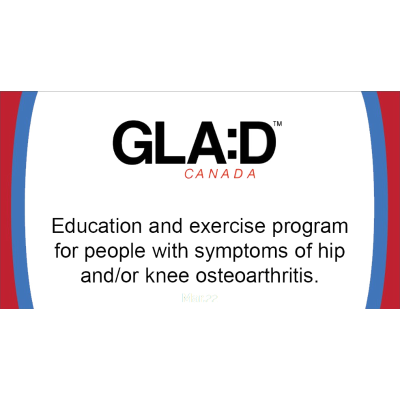 The first program, run by Dr. Andrew Romanelli, begins April 4. The and the second, run by Dr. Jason Bonar, begins June 12. Both run twice a week for seven weeks.
Plans are underway to expand program delivery to Sherbourne Health Centre with Drs. Janet D'Arcy and Patricia Tavares.
The GLA:D™ program consists of two educational sessions followed by 12 exercise sessions over six weeks in a group setting and have been shown to demonstrate the following benefits:
a 27% reduction in pain intensity
a 37% and 45% reduction in use of joint related pain medications for knee and hip OA participants respectively
20% of GLA:D™participants with knee OA were on sick leave, compared to 30% at baseline
An over 30% increase in self-reported physical activity levels
Interested patients can call Campus Clinic reception for more information (416) 482-2546. For more information about GLA:D, please visit www.gladcanada.ca.