CMCC is now the first health care education institution in Ontario to enhance its learning environment with the acquisition of the Anatomage Table, an advanced digital anatomy visualization system. The table, one of only four in Canada – is a life-sized virtual dissection table.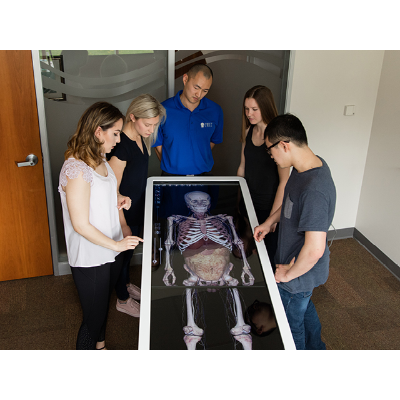 It comes preloaded with male and female digital bodies in addition to 300 pathology cases built on animal and human models and will become an integral part CMCC's foundational anatomy program that includes cadaver work and a minimum of 329 hours of study within the 4,200-hour Doctor of Chiropractic program.
The Anatomage Table 5 will be integrated into the full curriculum beginning this fall. It includes three full body cadavers completely annotated and dissectible using special digital tools. It makes use of high quality graphics and flexibility of display, while touch screen manipulation of the models allows the user to remove select layers of tissue to highlight specific systems and allows for repeated dissection and rotation of the body. A pen tool allows an instructor to make further annotations and highlight areas, while the images can be projected onto screen and saved onto a USB drive.
"It's a powerful clinical tool," says Dr. David Wickes, President of CMCC. "It doesn't diminish the importance of cadavers for understanding the nuances of the human body or the ability to view real tissues in 3D, but with its technical capabilities, serves to augment traditional dissection and is extremely versatile for our students and instructors, allowing integration with microanatomy, histology X-ray, CT and MRI images."
"From an educational perspective, this is an exciting technology in line with adult learning principles that will provide another perspective in the study of anatomy," says Dr. Scott Dunham, Director of Curriculum and Faculty Development," And, it has the potential for expansion into other areas of study, such as diagnostic imaging."
CMCC is one of 10 institutes of higher learning in Ontario with its own cadaver lab, which it has maintained since it opened in 1945. Technology and equipment has changed, but the anatomy program remains a vital part of the chiropractic program in ensuring a comprehensive understanding of the body and all its intricate systems.
CMCC's body donation program is provincially controlled by the Chief Coroner's Office and regulated by the Anatomy Act of Ontario.
---