75th Anniversary Weekend agenda at a glance:
Please note: All sections below in bold and green are clickable and will direct you to that portion of the website
Friday, June 5, 2020

9:00a.m. – 5:00p.m.

CMCC

5:00p.m.

Shuttle Services

7:00p.m. – 11:00p.m.

Toronto Harbourfront

Saturday, June 6, 2020

9:00a.m. – 12:00p.m.

12:00p.m. – 2:00p.m.

6:30p.m. – Midnight

Royal Ontario Museum
A CMCC weekend like no other!



Join colleagues from across Canada and around the world for social events and a continuing education program unlike any other hosted by CMCC. Embrace this special opportunity to meet with classmates and to journey back in time as you recollect the many experiences that shaped your life and career.
Enhance your day-to-day practice by participating in a highly relevant continuing education program presented by world-renowned speakers.
Save by purchasing the Complete Weekend Package ! You can also register for Continuing Education only and our individual social events: CMCC 75th Anniversary Gala , Toronto Harbour Dinner Cruise hosted by Dr David and Debora Wickes and Anniversary Lunch hosted by the Governors' Club
Join your colleagues by staying at the very affordable official host hotel, The Westin Harbour Castle , located on the Toronto harbourfront.
To ensure a safe environment for our participants, CMCC is actively monitoring current situations and is following all national, provincial and municipal guidelines pertaining to the operating of our events.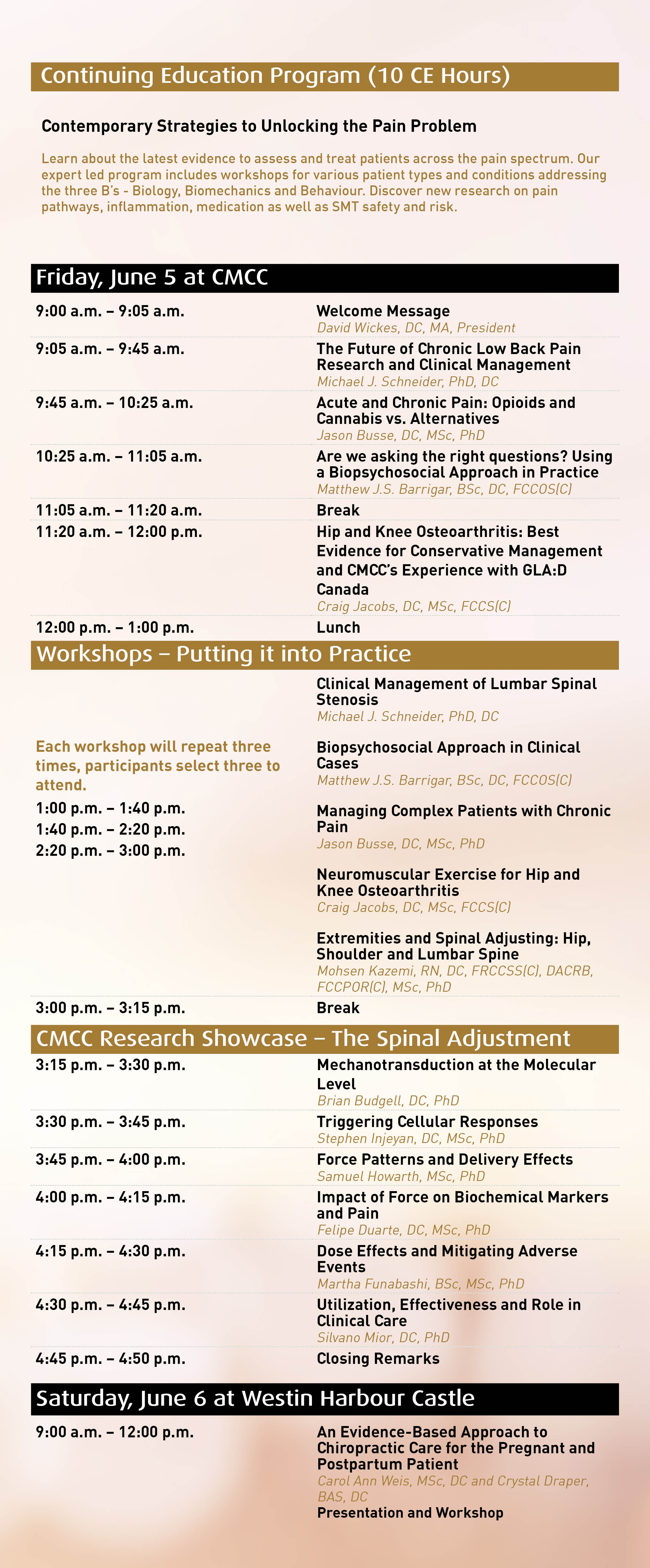 Toronto Harbour Dinner Cruise hosted by Dr David and Debora Wickes
Friday, June 5, 7:00 p.m.
Enjoy a Toronto boat cruise as a relaxing way to spend some time on the water with classmates, friends, family or colleagues. A luxurious cruise ship will take you around the Toronto Harbour for a total of 4 hours! Come fill your senses with the spectacular city skyline, delicious food and beverages, the warmth of the summer breezes, and the sounds of the wildlife as we cruise by many famous Toronto attractions.
Anniversary Lunch hosted by the Governors' Club
Saturday, June 6, 12:00 p.m. at The Westin Harbour Castle
A special thank you to those who help improve the quality of education at CMCC! This year's Anniversary Lunch hosted by the Governors' Club will take place at The Westin Harbour Castle . While the luncheon is complimentary for Governors' Club Members, anyone who purchases a Governors Club Luncheon ticket is welcome to attend.
Welcome Anniversary Classes
Congratulations to the following classes who will be recognized for their milestone anniversaries: '50, '55, '60, '65, '70, '75, '80, '85, '90, '95, '00, '05, '10, '15, and '19
Homecoming Awards
Alumni from our anniversary classes will be honored for making significant contributions to the profession and their local community. Recipients will be chosen for the following awards: CMCC Alumnus of the Year, Community Service Award and Pioneer Award. More details to come.
A Spectacular 75th Anniversary Gala
Saturday, June 6, 6:30 p.m. at The Royal Ontario Museum
The Royal Ontario Museum (ROM) is one of Toronto's most significant historical landmarks and one of the top 10 cultural institutions in North America! Located downtown, the museum is home to a world-class collection of 13 million artworks, cultural objects and natural history specimens.
The 75th Anniversary Gala will be the crowning touch on the Anniversary Weekend and will feature awe-inspiring entertainment, a dining experience to savor, an irresistible silent auction and so much more!
Class Reunion Social Events
If your class has eight or more attendees coming to CMCC's 75th Anniversary weekend, and would like to have a private get together, CMCC's Special Events Coordinator, Kristin Earle, can assist you! Please reach out to her with as many details as possible and she will work with local restaurants and bars to make your reunion one to remember!
Sponsorships
CMCC is a not-for-profit, charitable organization that receives no direct government funding and relies on events such as the 75th Anniversary Weekend for support.

The 75th Anniversary Weekend presents a rare opportunity to support an important milestone event in CMCC's history. Some of the higher sponsorship levels include tickets to the Gala and the other social events! The level of sponsor recognition is dependent upon the sponsorship category as outlined in the flip deck below:
All sponsors will be issued with a business receipt in accordance with Canada Revenue Agency regulations.

The Westin Harbour Castle Hotel
Host Hotel: Thursday, June 4 – Sunday, June 7
Make your escape to The Westin Harbour Castle , a harbourfront hotel brimming with sophisticated style and thoughtful amenities. Located in the revived waterfront area, the hotel offers guests direct access to some of Toronto's most noteworthy points of interest, including the Rogers Centre, Scotiabank Arena and the CN Tower. Enjoy close proximity to subway stations and bus stops for easy travel around downtown Toronto.
CMCC has negotiated select room blocks with The Westin Harbour Castle. By guaranteeing a minimum number of rooms and room nights, we are able to offer you the preferred pricing of $209 per night for a standard one king lake view or two double beds city view, and $269 per night for a larger corner room with a king lake view. The king corner room offers sweeping panoramic views of Lake Ontario, spacious accommodations, elegant furnishings and oversize windows that bathe the room in natural light.
Guests are able to make their own reservations online at the link below or by calling toll free at 1-888-627-8559 and stating that they are part of the Canadian Memorial Chiropractic College or simply quoting the group code 'CA3407'. Please note: When making your reservation online or by calling, guests must book only the valid dates of Thursday, June 4 – Sunday, June 7 in order to receive the special pricing. All other dates will not apply.
Click here to book your stay with our 75th Anniversary Weekend rate!
Book by the early bird date of May 1, 2020 and be eligible to win one night of free accommodation for two at the Westin Harbour Castle during the 75th Anniversary Weekend!
A friendly reminder that the cut-off date to make reservations under the group block with the negotiated group rate is on May 1, 2020.
Overview & Addresses:
When:
Friday, June 5, 2020 – Saturday, June 6, 2020
Where:

Canadian Memorial Chiropractic College
6100 Leslie Street, Toronto, Ontario M2H 3J1

Royal Ontario Museum
100 Queens Park, Toronto, Ontario M5S 2C6

Westin Harbour Castle Hotel
1 Harbour Square, Toronto, Ontario M5J 1A6

Contact:
416 482 2340 ext. 200
NOTE: Photographs will be taken during the 75th Anniversary weekend and may appear in CMCC publications and multimedia. Any issue in this regard should be brought to the attention of the staff at the time of registration.
Gold Sponsor

Exclusive Wine Sponsor:

Gala Reception Sponsor:

Photo Booth Sponsor:

Continuing Education Break: