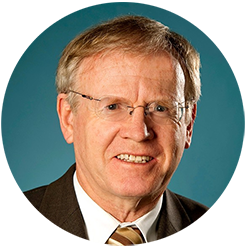 Ian Coulter
Ian Coulter is a senior health policy analyst at the RAND Corporation, where he has also held the Samueli Institute Chair in Policy for Integrative Medicine. He is a professor Emeritus at UCLA where he was a professor in the School of Dentistry; a professor at the Pardee RAND Graduate School; and a research professor at the Southern California University of Health Sciences. He is an adjunct Professor at CMCC and the Faculty of Health Sciences Ontario Tech University. Coulter has published over 200 articles, chapters, and books. He is the past Vice President for Integrative Medicine at the Samueli Institute and a past President of the Canadian Memorial Chiropractic College.

Born in New Zealand, Coulter holds degrees in sociology from the University of Canterbury (B.A., M.A. Honors) and the London School of Economics & Political Science (Ph.D.) and an honorary doctorate in humanities from the Southern California University of Health Sciences. He was a Pew Fellow at the RAND/ University of California at Los Angeles, Center for Health Policy Study from which he is graduate in health policy analysis. Additional qualifications include a diploma in educational management from the Institute of Educational Management, Harvard University. Dr. Coulter is internationally recognized as an expert in Chiropractic, CAM and Integrative Medicine and is one of the most experienced researchers in these fields. He was recently awarded the Humanitarian of the Year award by the American Chiropractic Association which is the highest awarded given to a non-chiropractor. His previous appointments in Canada include a Professor in Sociology at Laurentian University, a Research Associate and Professor in the School of Community Health, University of Toronto and Assistant Vice Provost of Health Sciences at the University of Toronto.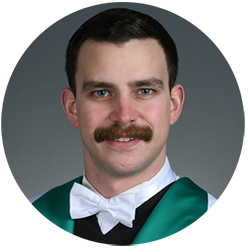 Luke Leggo
Luke Leggo is honoured to represent the class of 2021 as valedictorian.

Originally from Drayton Valley, AB, Leggo has also resided in both Edmonton and Calgary, where he attended the University of Alberta and the University of Calgary, in the pursuit of his undergraduate degree in kinesiology.

While completing his kinesiology degree in Edmonton at the University of Alberta, he found work teaching rehabilitation exercises as a chiropractic assistant in the area of sports performance, a job that became full-time once he graduated.

Expanding into the role, Leggo felt he could offer patients more by studying chiropractic himself and incorporating manual therapy into the services he could provide. Soon afterwards, he and his wife, Kendra, were headed to Toronto for the next four years and all the adventures it would bring.

Leggo says despite the challenges of the past year, his education and life in Toronto were great experiences. He is proud of the work he and his classmates accomplished, applying themselves and seeing their way through the changes and challenges as they came up. "Everyone should be proud of the work and effort they put in – we made it!"

He thanks the members of the Class of 2021 for their vote of confidence in him for speaking on their behalf, and their friends and families for sharing this moment.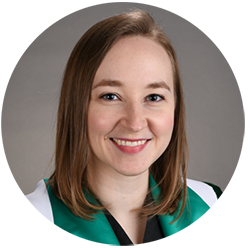 Emma Heimbecker
Emma Heimbecker is from Orangeville, Ontario. Her interest in chiropractic began in high school when seeking treatment for a sports injury. She completed her Bachelor of Science in Kinesiology at the University of Waterloo; through their Co-operative Education Program, she held teaching positions at Centennial College, University of Waterloo's Professional Development Program, and Humber College's Human Anatomy Lab. Shortly after graduating, she became certified as a Clinical Exercise Physiologist with the Canadian Society for Exercise Physiology. Along with her academic pursuits in the sciences, Emma has always had a passion for music. She is classically trained, having completed grade 8 piano and grade 9 voice with the Royal Conservatory of Music obtaining first class honours with distinction. Emma wants to thank the graduation committee for selecting her to perform O Canada. Congratulations class of 2021!