Backs in Motion 2019 – Registration Now Open!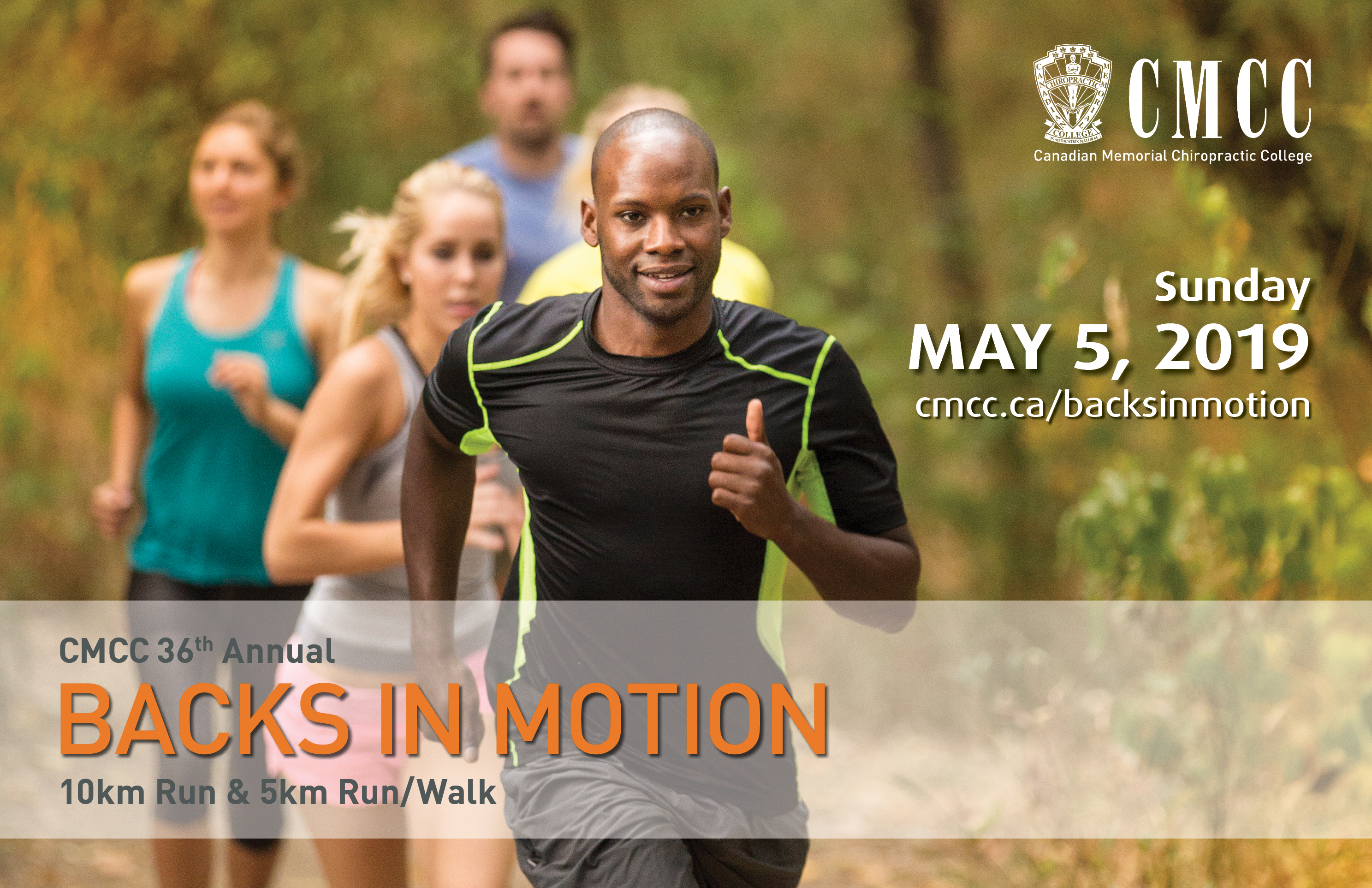 The 36th annual Backs In Motion will take place on Sunday, May 5, 2019.
Backs in Motion is CMCC's annual 10km Run and 5km Run/Walk and is accredited by Athletics Ontario. It raises over $50,000 each year in support of chiropractic education, research and patient care at the Canadian Memorial Chiropractic College. Revenues generated through Backs in Motion '19 will support CMCC's work in our eight community-based clinics, strengthening student learning and providing important health resources in neighbourhoods throughout the GTA.
Once again we will be in the beautiful trails of the East Don Parklands, offering a chance to see the river and its valley unencumbered by rail lines and expressways.
REGISTER NOW!
Register online for this year's Backs in Motion!
We look forward to seeing you on May 5. If you have any questions, please don't hesitate to contact us at events@cmcc.ca or 416-282-2340 ext. 200
Start Fundraising!
To begin fundraising for this great event, visit our Canada Helps page. Have questions? Read our helpful step-by-step guide on how to set-up your fundraising page. You can then either join an existing team, build your own team or fundraise as an individual. By helping us fundraise, you will support chiropractic education, research and patient care at the Canadian Memorial Chiropractic College.
Offline Donations (cash or cheque)?
Write your name at the top of the Backs in Motion pledge form, and fax 416-482-3629 or email events@cmcc.ca your pledge sheets to CMCC. Staff will add your offline pledges to your CanadaHelps page.
Please note: your registration fee will be refunded if you raise pledges for your run/walk:
Students (CMCC & other schools): raise $50 in pledges
Friends of CMCC, staff and faculty: raise $100 in pledges
Prizes
In addition to kids participant medals and placement medals, there will be great prizes once again at this year's run. All registered participants will receive a technical run t-shirt and an exclusive run kit filled with prizes and goodies donated by our generous sponsors and supporters.