Human Performance Lab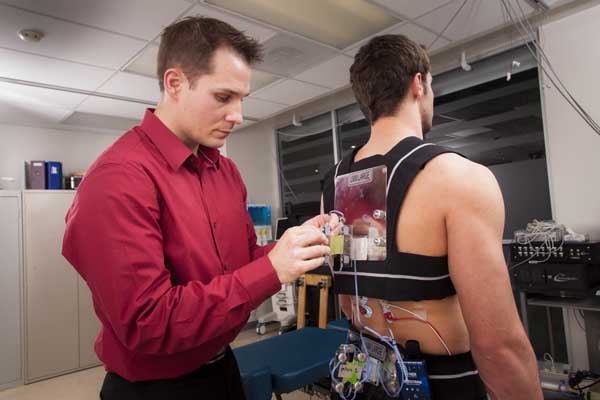 Human performance is often associated with sports and athletics; however, the name is equally applicable to less intense tasks such as desk work. The Human Performance Lab (HPL) studies the biomechanics of human activities that span a range from activities of daily living to high-level athletics. A key component of our work is to understand movement, which is fundamental to life.
Faculty
Dr. Samuel Howarth, Director
Mr. Steve Tran, Lab Engineer
Dr. Steven Lester
Dr. Simon Wang
Dr. Diane Grondin
Dr. David Starmer
Dr. Shawn Engell
Dr. Sheilah Hogg-Johnson
What's in the Human Performance Lab?
CMCC's Human Performance Lab is outfitted with the necessary, and state of the art equipment and software to evaluate the biomechanics of human performance.
- Motion Capture
- Electromyography
- Force and Pressure
- Ultrasound
- Visual3D
Research Areas
Patient-centred biomechanics of manual therapy
Does changing patient posture or the clinician's contact alter the forces and movements experienced by the patient during treatment? Can manual therapy influence patient movement after treatment? Do patient reports of reduced pain following treatment correlate with measurable changes in biomechanical behaviours during daily activities? Answering these questions will help us to understand the patient experience during manual therapy, and to identify biomechanical changes that could be linked to the therapeutic benefit of manual therapy.
Sports and exercise
Whether recreational, or competitive, participating in sports and exercise is a part of life for many of us. We study the biomechanical aspects of exercises to understand their demands on the human body, and to optimize their implementation into training and rehabilitation programs.
Biomechanics of daily living
Tasks that we do throughout the day, either at work or in our personal lives, have an impact on our bodies. Research in this area focuses on determining the physical demands of these activities, and developing effective strategies to reduce the risk of pain or injury.
Opportunities
The Human Performance Lab has historically conducted research with commercial partners. We are interested in expanding our connections with industry. Please contact Dr. Howarth if you would like more information regarding any of these studies.