World Suicide Prevention Day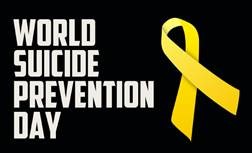 On September 10, 2020, the CMCC Community supported World Suicide Prevention Day. This campaign aimed to engage the global community to recognize the signs of someone who is contemplating suicide.
Pay attention to the warning signs:

Hopelessness
Rage
Depression
Anxiety
Uncontrolled anger
Seeking revenge

Engaging in risky activities
Increased alcohol or drug use
Withdrawn from friends, family & society
Irregular sleep patterns
Acting reckless
Dramatic mood changes
For many reasons, people are often reluctant to reach out to someone showing warning signs that they may be having suicidal thoughts. There is often the fear of not knowing what to say or making the situation worse. It is important to remember, there is no one 'right thing' to say. Showing empathy, compassion, genuine concern, and having knowledge of resources are key to suicide prevention.
Please be kind to each other and remember that a small gesture can go a long way.