Homecoming 2018

We are thrilled to be welcoming back CMCC Alumni and those that are celebrating anniversaries in 2018: '53, '58, '63, '68, '73, '78, '83, '88, '93, '98, '03, '08, '13 and '17.
This year brings exciting changes to our social events program as well as an engaging and more practical continuing education program.
After you review the weekend schedule below and book your hotel accommodation (if needed), you can register right away!
Schedule
We are excited to bring you a new and improved weekend of events, allowing you to connect with your former classmates on a whole new level.
Weekend Schedule
Friday, June 1

Welcome Back Brunch

35th – 65th anniversary attendees

10:30 a.m. – 12:30 p.m.
Bayview Golf and Country Club

Continuing Education (Option 1)

Retiring or Acquiring? How to Buy or Sell a Practice

Instructor: Allan M. Freedman, Barrister and Solicitor and Stephen Shulman, CPA

CE hours: 3.5

1:00 p.m. – 4:30 p.m.
Lecture Hall 1

Continuing Education (Option 2)

Brand Strategy & Marketing for Practice Growth

Instructor: Jeff Swystun, Swystun Communications

CE hours: 3.5

1:00 p.m. – 4:30 p.m.
Lecture Hall 2
President's Welcome Home Festival
5:00 p.m. – 9:00 p.m.
CMCC Parking Lot & Gardens
Saturday, June 2

Continuing Education: Profile your Technique with Force Sensing Table Technology (FSTT®)

Instructor: David Starmer, DC

CE hours: 2.5

9:00 a.m. – 11:30 a.m.
CMCC
Governors' Club/CCHA Lunch
11:30 a.m. – 1:00 p.m.
CCPA Hall
Rec Room Game Experience & Lunch
1:30 p.m. – 4:00 p.m.
Toronto Roundhouse, Downtown
Grand Reception & Alumni Awards
6:00 p.m. – 11:00 p.m.
CCPA Hall
Hotel Information
Preferred hotel for Homecoming 2018
Limited rooms available, make your reservations today!
Sheraton Parkway Toronto North Hotel
600 Highway 7, Richmond Hill, ON L4B 4R8
Hotel Information & Booking
Group rate until May 1. Book by phone, 1 800 668 0101, or by email, resmgr@sheratonparkway.com
Booking Code: CMC531 or 'CMCC Homecoming 2018'
Discounted group rate $149 plus taxes, inclusive of wifi and parking
Register before May 1 and you'll be entered to win one night accomodation at the Sheraton Parkway in a Jacuzzi Suite for two, valued at $179 + taxes.
NEW Homecoming Events
Welcome Home Festival: a tail-gate party event, this fun-filled evening with feature several food truck options, beer samplings, live music, mingling and dancing.
Rec Room Game Experience: With Canadian-inspired cuisine, virtual reality, arcades games, and live entertainment, the Rec Room is the ultimate gathering place to grab a pint, have fun with friends, or just play.
Alumni Awards: Alumni from anniversary classes will be honoured in an awards ceremony that acknowledges those who have made significant contributions to the profession and their local community. Nominees will be selected by their peers and a committee will select the winning candidate in each of the following categories:
CMCC Alumnus of the Year
Community Service Award
Pioneer Award
Eligibility
All nominees must be in good standing with their provincial associations.
Have served the profession for a minimum of 5 years.
Awards are exclusive to CMCC alumni celebrating current milestone anniversaries. i.e. '53, '58, '63, '68, '73, '78, '83, '88, '93, '98, '03, '08, '13
Nominations will open online in early March.
Registration
Reserve your spot today by registering online! You can select either the entire weekend package or build your own. The packages cover the Continuing Education Programs, as well as specific social events for the Homecoming weekend.
Early Bird Pricing is in effect until May 1, 2018. Please refer to the 2018 pricing chart for a breakdown of both the Early Bird and regular costs for the Homecoming weekend.
Please choose from the following online registrations forms:
Governors' Club and CMCC Member
Governors' Club Member, Non-CMCC Member
Homecoming Brochure
The Homecoming Brochure contains the itinerary for the Homecoming weekend, and includes a registration form that you can download and return to CMCC by email or standard mail.
Stay Connected
Visit your Homecoming Class Facebook Page from the list below, and see who's planning on coming from your class. Feel free to post notes and memories from your time at CMCC, and photographs.
Class of '68 - 50th anniversary!
Class of '73 – 45th anniversary!
Class of '78 – 40th anniversary!
Class of '83 – 35th anniversary!
Class of '88 – 30th anniversary!
Class of '93 – 25th anniversary!
Class of '98 – 20th anniversary!
Class of '03 – 15th anniversary!
Class of '08 – 10th anniversary!
Class of '13 – 5th anniversary!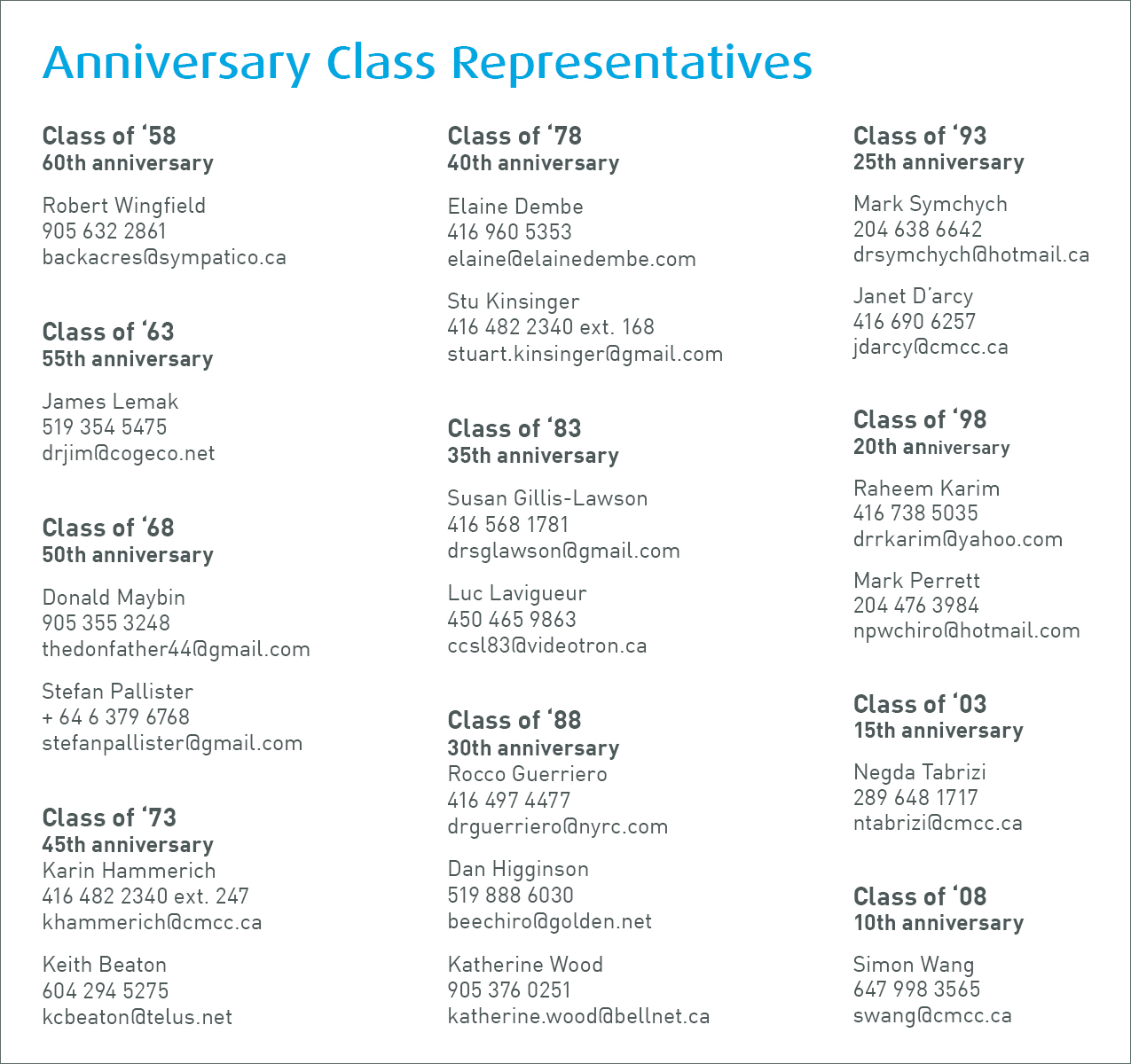 Sponsors
Interested in playing an integral role in CMCC's Homecoming? Contact us about sponsorship opportunities at: sponsorship@cmcc.ca
Silver Sponsor

Media Sponsor