CMCC Symposium at Homecoming

REGISTRATION NOW OPEN!
"Symposium at Homecoming 2019" welcomes the global chiropractic community, as the Biennial Research Symposium and Homecoming come together for one big event on May 31 and June 1, 2019!
Join world class experts on the Prevention and Management of Low Back Pain – The Expanding Role of the Chiropractor, inspired by the Lancet papers and the Global Spine Care Initiative. Become a trailblazer in the management of low back pain through a series of need to know lectures covering topics and workshops relevant to optimizing patient care and inter-professional collaboration.
You will also have several opportunities to enjoy planned social activities with your colleagues and classmates.
Social event program highlights include:
President's Welcome Home Barbecue – food and drinks, music, mingling and the presentation of the Backs in Motion Homecoming Class Challenge Trophy
Governors' Club Lunch – annual general meeting and presentation of service awards
Grand Reception, Dinner and Awards – alumni class recognition and awards, class photos, music and dancing; information on the alumni awards will be announced in the New Year.
Campus Tours – Tours of the campus will be available on Friday and Saturday.
See below for weekend schedule, event registration options and hotel information.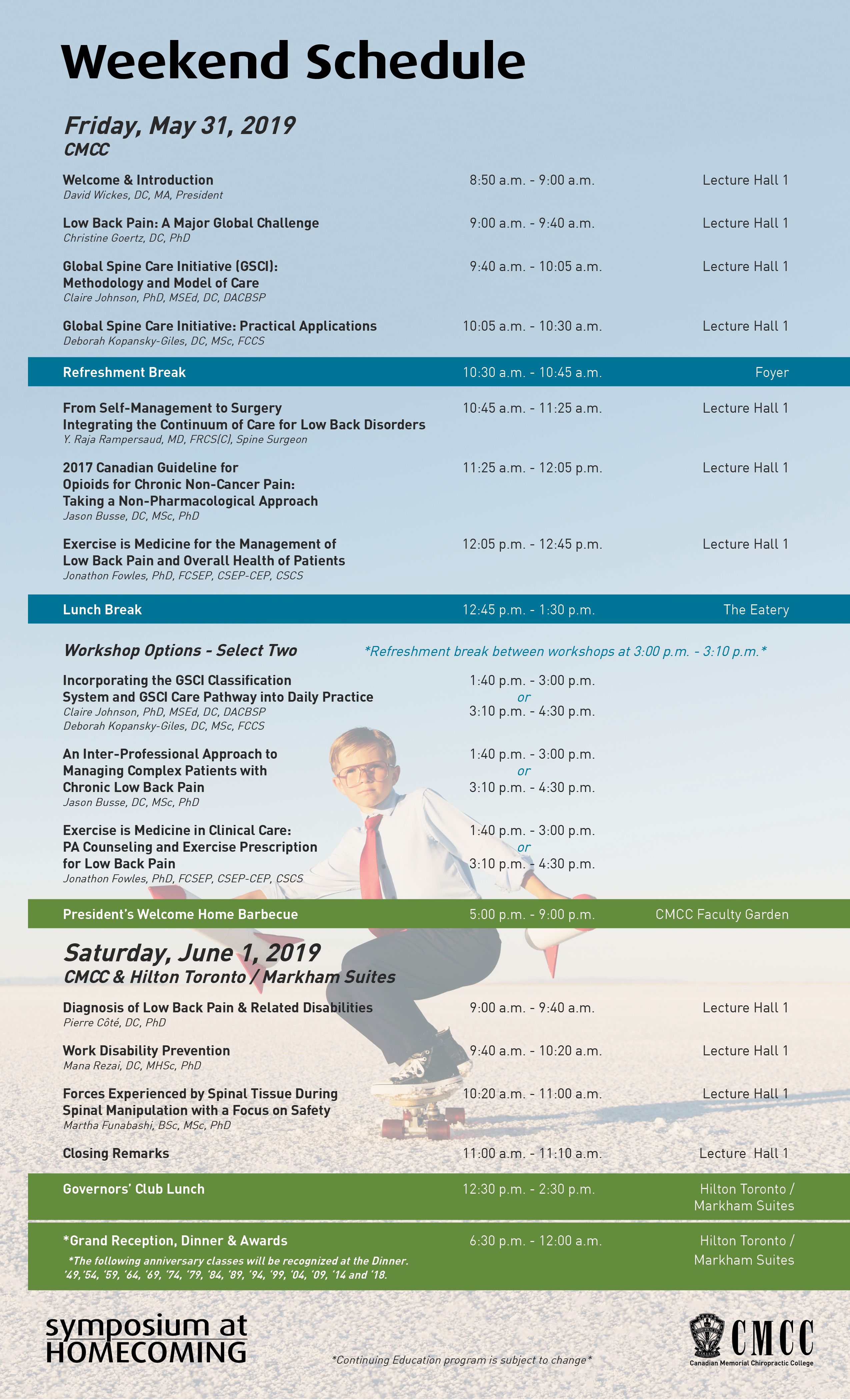 Registration for Symposium at Homecoming
You can register online, or you can download the registration form and email or fax it to CMCC.
Please choose from the following online registration forms:
Governors' Club and CMCC Member
Governors' Club Member, Non-CMCC Member
Official Homecoming Hotel
The preferred hotel for Homecoming 2019 is the Hilton Toronto/Markham Suites
8500 Warden Avenue, Markham, ON L6G 1A5 www.torontomarkham.hilton.com
Hotel information & booking:
Discounted group rate of $150 + taxes available until May 10, 2019 (includes wifi and parking)
Book by phone at 905-470-8500 or visit here to make your booking.
Limited rooms available; make your reservations today!
Group Name: CMCC Symposium at Homecoming 2019
Group Code: 1CMCC
Register before April 26, 2019 and you'll be entered into a draw to win two nights' accommodation at the Hilton Toronto/Markham Suites with breakfast for two. Prize can be used during Symposium at Homecoming (pending room availability). Certificate will expire December 2019.
We look forward to seeing you on May 31 and June 1. If you have any questions, please contact us at 416-482-2340 ext. 200 or events@cmcc.ca